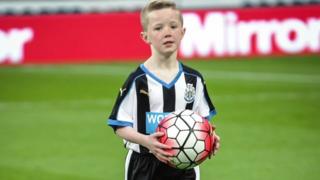 Boy who helped tidy up becomes mascot
A boy who helped police clean up litter after a football game has been rewarded by walking on as a mascot for Newcastle United.
When 7 year old Tyler started picking up litter after a Newcastle match he had no idea he'd end up walking onto the pitch with his heroes.
He was spotted on CCTV, tracked down and thanked by the club.
Martin went to find out what the honour meant to him.