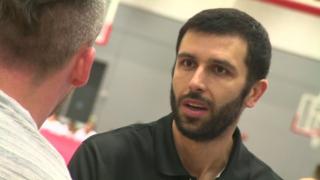 Basketball star Radmanovic encourages UK talent
Basketball is one of America's most popular sports, and now kids in the UK can play in their own junior NBA basketball leagues.
120 schools have taken part in the the Junior NBA Basketball England League, and they've been supported by former NBA star Vladimir Radmanovic.
He's played for some of the biggest teams in the US, and is keen to spread the love for basketball to the UK.
Martin's been talking to some of the kids who have made it through to the League's finals, to find out why the sport is getting so popular.