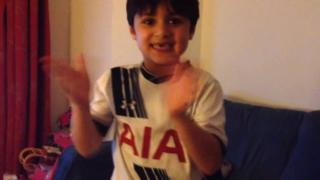 Spurs fans celebrate their win over Stoke
It's exciting times for fans of Leicester City and Tottenham Hotspurs as they battle it out at the top of the Premier League table.
Last night Tottenham's win against Stoke City ramped up the pressure for leaders Leicester.
And we got these big Spurs supporters to send us their reactions as the goals flew in for their team!
Take a look at the celebrations above.