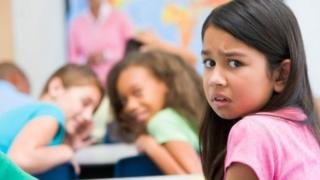 Thinkstock
Family issues, stress and trauma are among the reasons why people become bullies, a survey suggests.
In the Annual Bullying Survey 2016, just over a third of people who bully said that they don't spend much time with their parents or guardians.
A similar number of bullies also said that there were arguments at home every day.
Other things mentioned included stressful experiences like a big family fallout and the death of a pet.
The survey by charity Ditch the Label spoke to 8,850 people aged 12 to 20 years old. 14% said they had bullied.
The results also suggest that people who have been bullied are almost twice as likely to become bullies.
We want to know what you think.
Find out more about bullying from CBBC.

Thank you for your comments. This chat page is now closed.
Comments
My advice to someone experiencing bullying would be: To ignore the bully or bullies so they see that your not reacting so they'll get bored.
Isabel
After 5 years experience, it's best to tell an adult or someone you trust. Or you can ignore them and even laugh with them.
Millie from Havant
I think people bully because they are going through something themselves.i got bullied once and my advice is tell someone you trust but don't fight back it will become worse.
Mahek, London
1. People bully to take out their stress onto someone else: for example, the bullies parents have arguments every day which causes the bully to get stressed. This stress then moves onto another child by getting bullied.
2. If you're getting bullied, my advice is to go to the bully's parents and tell them that their child is bullying you and the parents should talk to each other and not have any arguments.
Suhas, Newcastle upon Tyne
I think people become bullies because they are jealous of someone or something a person owns. They might also bully others because they are having family issues at home. Some people can feel a bit insecure sometimes so they make other people feel down or upset to make them feel better about themselves.
I would advise them to tell a parent, guardian or an adult like a teacher at school.
Hannah, Hampshire.
You must ask your parent, teacher or guardian for permission before you send us a comment.
We may show your comment on our website or in our TV bulletins. We'll show your first name and which town you're from - but we won't use your details for anything else.