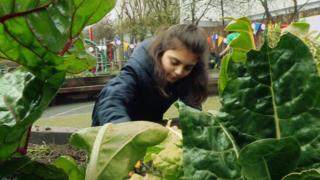 The school playground you can eat
A London school has transformed its playground into a garden of fruit and vegetables, so that its pupils can grow and eat their own food.
Lots of children in cities live in flats or houses without a garden, which makes it harder to grow plants at home.
This school's growing zone includes raspberries, potatoes and lettuce.
Each class can choose the plants it wants to grow.
Some of what the pupils harvest gets used in school meals. They get to take home the rest or share it with the local community.
Abdikarim shows us the edible playground at his school.