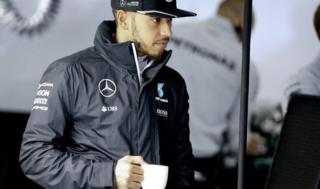 EPA
World champion Lewis Hamilton will start the Chinese Grand Prix from last place on the grid as Mercedes team-mate Nico Rosberg took first spot.
An engine problem for Hamilton meant his difficult start to the season continues. His 17-point gap to Rosberg could grow further on Sunday.
Daniel Ricciardo took second for Red Bull. Ferrari drivers Kimi Raikkonen and Sebastian Vettel made errors on their final lap and could manage only third and fourth.
Warm and dry conditions are expected for Sunday's race, where more than 125,000 fans will be watching the race.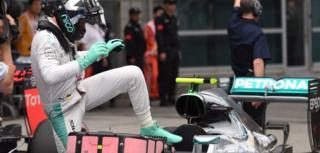 AFP
Hamilton said: "No-one wants it easy. It's still early on. We are definitely in the mud but we will dig our way out.
"These things are sent to try us. I'm sure the guys are just as gutted as I am.
"I will give it everything I've got. Hopefully they'll get the issue fixed and I'll have a race."