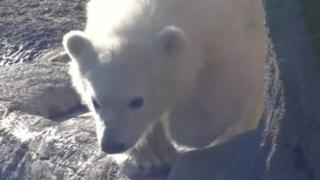 Baby polar bear makes a splash at US zoo
A polar bear cub called Nora came out with a splash on Friday, as she went for her a swim in front of visitors at a US zoo.
It marked the first public appearance for the baby bear, who was born on 6 November 2015.
Having weighed just 0.5 kilograms at birth, Nora now weighs over 23 kg and is growing at a healthy rate, according to Columbus Zoo officials.
Scientists estimate that only 20,000-25,000 polar bears remain in the wild.
But at Columbus Zoo, people will now have the opportunity to watch one grow, as Nora gets set to play outside for one hour each day.