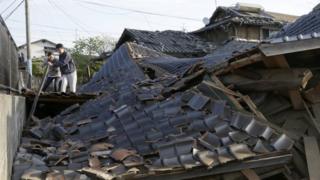 EPA
Rescue efforts are underway in south-western Japan after a second powerful earthquake hit the region in two days.
Around 20,000 people from Japan's military are helping in the operation in Kumamoto after the magnitude-7.3 quake at 3.25pm (UK time) on Friday.
It is the biggest earthquake to hit this part of Japan for a hundred years.
Dozens of people are thought to be trapped in the rubble of collapsed buildings but emergency services are doing all they can to find them.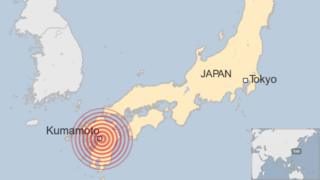 At least 29 people have been killed and more than 1000 people have been injured, media reports say.
Why do earthquakes happen? Read our guide to find out.
Roads have been damaged and big landslides have been reported over a wide area.
Some 200,000 homes are now without power.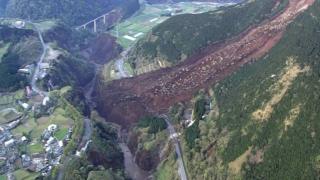 AFP PHOTO/DEFENCE MINISTRY/JIJI PRESS
There are fears that rain in the coming days could trigger more mudslides.
Thousands of people spent the night on the streets and in parks where they were huddled under blankets.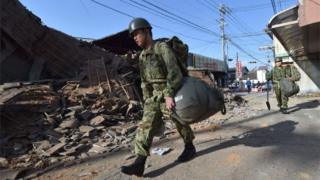 AFP
Japan has lots of earthquakes so is well prepared for events like this, emergency teams are helping people who have been made homeless.
The second quake, which struck six miles underground near Kumamoto city, was much bigger and hit a wider area than the one that shook the area on Thursday night.
Gavin Hayes, from the US Geological Survey, told the BBC the latest earthquake would disrupt the earlier rescue operation that was already going on after the first earthquake.
Thursday's magnitude-6.2 quake caused shaking at some places as severe as the huge earthquake that hit the country in 2011, Japan's seismology office said.
The 2011 quake sparked a huge tsunami and nuclear meltdown at the Fukushima power plant.