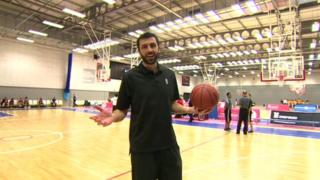 Top basketball shooting tips
Ever wondered how to take the perfect shot in basketball?
We asked legendary player Vladimir Radmanovic, from America's National Basketball Association, how he does it.
He's got 12 seasons of professional basketball under his belt and has played for big teams like the Los Angeles Lakers and the Chicago Bulls.
Vladimir told us that shooting the perfect hoop is all about using your whole body, getting your hand position right and lots and lots of practice!
Pictures from NBA.