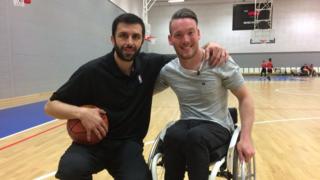 Martin vs Radmanovic basketball challenge
Martin set up a basketball 'hoop off' with America's National Basketball Association player Vladimir Radmanovic.
They went head to head with a best of four shots.
At more than two metres tall Vladimir is a giant of the sport so to even things out he took the shots sitting down.
With only four chances to score the pressure was on right from the start but who nailed it?
See who won this sporting challenge.