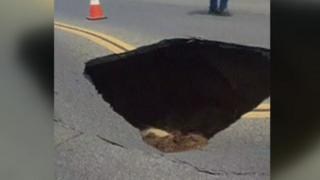 Sinkhole opens up in California
Check out this video of a sinkhole opening up before your eyes in the middle of a street in California in America.
The street started to slowly fall into an underground sewage line in the city of Madera.
This video was filmed by the Madera police who reckon the hole is around 15 to 20 feet deep.
Officers noticed a dip in the road and decided to cordon off the area to keep people safe.
It's thought it could have been caused by rain water from recent storms soaking into the ground and washing away the top soil under the road.
Video from The City of Madera Police Department