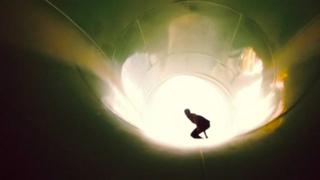 Skateboarders take over water park
If you're a skateboarding fan or even if you just have a head for heights, you need to check out this video.
Three skateboarders turned the temporarily dry slides of a hotel's water park into their playground.
For a couple of days a year the Atlantis Water Park in Dubai, in the Middle East, gets closed down for maintenance work.
This park houses some of the largest water rides in the world.
The plug was pulled on the Zoomerango and Aquaconda rides, which are currently the largest water rides on Earth.
Thousands of litres of water were drained so Jan Hoffmann, Alex Sorgente and Milton Martinez made the most of the dry surroundings.
They flipped, spun and slid their way through the monster rides.
Even though they made it look easy only the best riders could take part because it was so dangerous.
Pictures from Red Bull Media House.