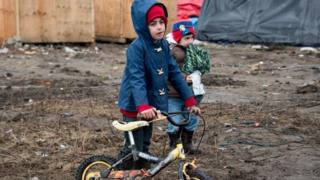 AFP
England's children's commissioner, who looks after the protection of children's rights, has asked the French government to help young refugees stuck in Calais, in the north of France, to reach England.
150 children are thought to be living in the camps without their parents, even though they have family in the UK who they could join.
The children have come from countries like Syria, Afghanistan, Eritrea, and also North Africa, to escape war and fighting.
Now, they are having to take care of themselves in the makeshift camps, while they wait to be allowed to come to the UK.
The children's commissioner said that life is very hard in the camps. She said that it's very dangerous for children on their own, and they need to be protected.
The French government hasn't yet replied to the commissioner's comments.
Watch Martin's report on unaccompanied children from August 2015