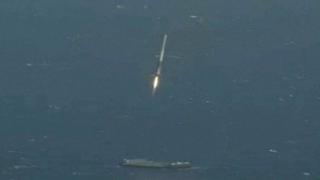 Rocket lands on drone ship
Part of a rocket has successfully landed on a drone ship in the Atlantic Ocean for the first time.
The rocket that was launched by US company SpaceX touched down after helping to deliver supplies to the International Space Station.
It's not the first time that SpaceX has tried to land the rocket at sea - they have had four failed attempts already.
But this new success is a big step forward, because it means that they will be able to re-use rocket parts in the future, instead of them getting wasted.