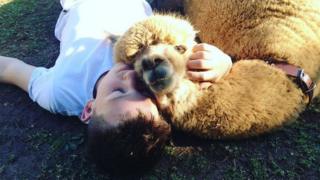 Chewpaca
Thirteen year old Matt from Adelaide in Australia asked for a dog for Christmas - and got an alpaca instead.
His parents thought a dog would be too high maintenance, so they took him to an alpaca farm to chose one.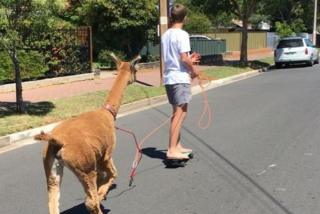 Chewpaca
Luckily Matt fell in love with Chewy, the alpaca, and even takes him skateboarding near his house.
An alpaca isn't a classic pet choice - Newsround wants to know if you have any unusual animals at home?

Thank you for your comments. This chat page is now closed.
I once had albino African clawed frogs. I also used to have a budgie, and at the moment I have a tortoise!
Imogen, Glasgow
My strange pet is a snake
Theo, 12, London
My weirdest animal was a cow
Leah, 9, Northamptonshire
I have an African Pygmy Hedgehog
Daniel, 10, Pontypridd
My weirdest pet I have is a stick insect! They are only small as they have only just hatched!
Eleanor, 9, England
A bald dog and a lizard
Poppy, 9, Barnsley
My weird pet was a pigeon
Ella, 10, Hampshire