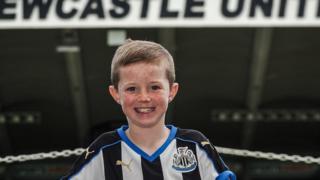 Newcastle United
A seven-year-old boy has been rewarded after he was spotted helping police tidy up after a football match.
Tyler was helping to pick up rubbish after he'd been to watch a Newcastle United match last month.
The police posted the video on social media to try to find out who he was.
Lots of people saw it and identified Tyler as the helpful litter picker.
As a reward for helping out, Tyler will get to lead the teams out before Newcastle United's match against Manchester City on the 19th April.
Northumbria Police Chief Superintendent, Steve Neill, said: "Tyler played his part in what was a very successful day... It is only right that he is rewarded and I hope he thoroughly enjoys walking out with his team at St James' Park."