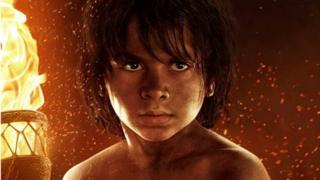 Disney
Ever wanted to ask your questions to a film star? Well here's your chance!
Newsround will be speaking to Neel Sethi, the young star of the new Jungle Book film - and we want your questions.
Although he's never acted before, Neel was picked for the role after auditioning alongside hundreds of children from the United States, Britain, New Zealand and Canada.
The film is based on the book by British author Rudyard Kipling, about an orphan who's raised by animals in the Indian jungle.

Thank you for your questions. This chat page is now closed.
You must ask your parent, teacher or guardian for permission before you send us a comment.
We may show your comment on our website or in our TV bulletins. We'll show your first name and which town you're from - but we won't use your details for anything else.
Your questions
How big was King Louis in real life? Do you have a picture of you with him?
Owen, 5, Brecon
How happy did you feel when you got to act as Mowgli?
Ruth, 10, Aldershot
What is your favourite part of the movie?
Henna, 12, Halifax
What was your reaction when you found out you got the part for Mowgli?
Oliver, 14, England
How old were you when you started filming. Did you enjoy filming? And where did you start acting?
Frankie, 7, Wales
How did you get into acting? And how many hours per week do you do it for?
Natasha, 10, Southampton
Do you like getting muddy on the set?
Emillie, 9, Stevenage
How did you get chosen and what did you do to get the directors impressed?
Michael, 12, London
What was the most amazing thing about filming the new Jungle Book film?
Rebecca, 12, Cheshire
Where do you see yourself in 10 years?
Orla, 9, Devon
Was being a movie star your first choice of job?
Louis, 10, London
How did your acting career start?
Alexandra, 10, Stoke-on-Trent
If you could bring any character from the movie to life which one would it be?
Sophie, Sudbury
What's it like acting when the other characters are animated?
Julius, 11, Market Harborough
Before you started the movie were you really frightened to go on camera?
Suhas, 11, Newcastle upon Tyne
Who inspired you to become an actor?
Jovie, 7, Coventry
Was it scary the first time you started filming for real?
Alice, 10, Derbyshire
How does it feel to make the jungle book movie?
Aminah
Do you think this film will be as big as the original?
Alex, 7, Newcastle
How do the children at your school feel about you being a film star?
Liam, 11, Wiltshire