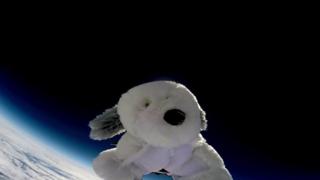 Cuddly toy goes missing after space flight
Pupils at a school in Lancashire have sent a toy dog 15 miles into the atmosphere as part of a science project.
Kids at Morecambe Bay Community Primary school attached Sam to a helium balloon, a GPS tracker and a camera and released him into the sky.
He managed to reach the edge of space, with a maximum height of 15.5 miles above ground, before coming back to Earth.
The school has found the GPS tracker and the balloon - but Sam is nowhere to be found.
He was last seen flying above North Yorkshire, and the school is asking people to look out for him.