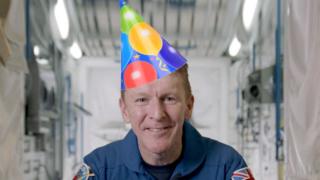 Happy Birthday Tim Peake! The astronaut is celebrating his 44th birthday on the International Space Station, around 220 miles above the earth.
It's got to be one of the most unusual places Tim's ever spent his birthday.
But can you beat a birthday in space? Where's the strangest place you've ever spent your birthday?
Thanks for your comments - this chat is now closed.

Your comments
It snowed on my birthday so school was cancelled and I went on a sledge to the shops in the snow and bought presents. It was my best birthday.
Ella, 12, Birmingham
I have never had an unusual birthday but one year when I was 8, my sister went on holiday on my birthday so she celebrated on a plane.
Sarah, 12, Manchester
I once spent my birthday on a rollercoaster which has a loop.
Angelina, 12, London
I've spent my birthday on a remote island off the west coast of Scotland!
Carlin, 12
I once spent half my birthday in a car!
Sarah, 9, Birmingham