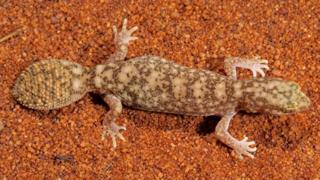 Angus Emmott
This might look like a terrible two-headed creature - but it's actually a new species of fat-tailed gecko.
Experts from Queensland in Australia had been trying to identify this specific gecko for the last five years.
The gecko, which they named Diplodactylus ameyi, has a distinctive fat tail and a rounded snout.
It is brown with pale spots, which means it is well camouflaged for the dry, hot environment where it lives.
During the day it hides in abandoned spider burrows to keep cool.