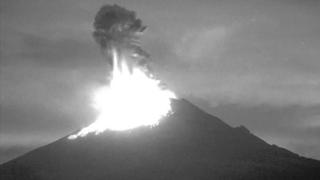 Mexico volcano spews ash
Web cameras in Mexico have captured volcano Popocatépetl's latest eruption in spectacular style.
A column of smoke and ash rose around 2,000 metres into the night sky above the volcano's crater.
There has been a lot of activity at the massive volcano in recent months.
Mexico contains over 3,000 volcanoes, but only 14 are considered active.
This video has no sound.