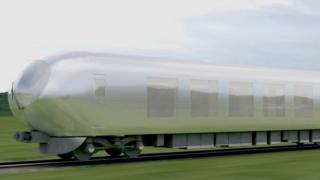 Kazuyo Sejima/ SEIBU
Look closely, and you might be able to see this new 'invisible' train, unveiled in Japan.
The train was designed by architect Kazuyo Sejima and has semi-transparent and mirrored surfaces to help it blend into the background.
The company who make the trains said that they wanted the carriages to feel like a living room, so that passengers can feel relaxed.
It's expected to be rolled out in 2018.
Japan often uses the latest technology on its trains, which are considered some of the best and quickest in the world.