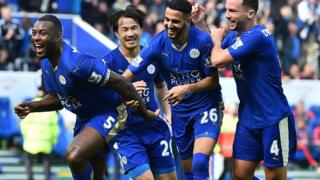 Getty Images
Hold on to your hats, folks. Leicester City have gone seven points clear of Tottenham at the top of the Premier League.
Wes Morgan scored as the leaders earned a fourth successive 1-0 win.
Although Spurs and Arsenal aren't out of the fight yet, the Foxes need 12 points from their final six games to guarantee the title.
"We believe it's a magical season and next season won't be the same," said boss Claudio Ranieri after the match.
You can't take your eyes off this season's title race.