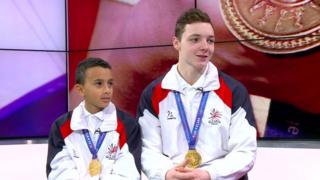 Team GB's daring duo win gymnastic gold
This dynamic duo impressed the judges to win gold at this week's Acrobatic Gymnastic World Championships.
Twelve-year-old Kieran and seventeen-year old Callum competed for Team GB at the event held in China.
They performed several spectacular routines, which included daring lifts and jumps to win the top prize.
The gymnasts train for 19 hours a week, which is a bit of a challenge because they have to fit it all in around their school work.
Earlier they came into the studio to tell us how it felt to win gold.