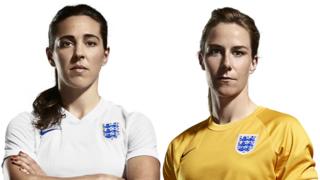 The FA
Ever wanted to put a question to two of the top players from England women's team? Well here's your chance!
Newsround will be speaking with midfielder Fara Williams and goalkeeper Karen Bardsley later this week and we want your questions.
Both Fara and Karen played in last year's World Cup, where England won bronze.
Fara is the most capped England player ever - she's played for her country 151 times.
And, goalkeeper Karen Bardsley has 58 caps and has also played for Team GB at the London Olympics.
Now, the Lionesses are getting ready to face Belgium and Bosnia-Herzegovina in the qualifiers for the Euro 2017 competition.
They've already won two of qualifiers so far.

What's your question for Fara Williams and Karen Bardsley?
Perhaps you'd like to ask about how they prepare for big matches?

You might want some advice on becoming a footballer?

Or maybe there's something else you'd love to know...
Thank you for your comments - this chat page is now closed.

When did you start playing football and when were you first scouted for England?
Louis, 9, Sutton Coldfield
Your captain is Steph Houghton. What does she do and how do you help her?
Haleemah, 12, Wakefield
Why did you first decide you wanted to be a footballer?
Oliver, 7, Leeds
Who is the best player that you have ever played against?
Chris, 9
When you were nine or ten how would you have seen yourself as an adult?
Nina, 9, Bristol
If you weren't a footballer, what would you be?
Emma, 10
Who is your role model?
Clementina, 9, London
Did you want to play football when you were a child?
Helena, 8, London
Do you ever feel nervous before a match?
Jessica, 15, London
As a goalkeeper, what are your best tips to learn to dive to save the ball?
Friia, 10, Newbury
What football teams did you support when you were younger?
Charley, 11, North Devon
Do you feel like you're underestimated because you're female?
Edith, 11, Mid Devon
How old were you when you discovered you wanted to become a football player?
Poppy, 11, Sussex