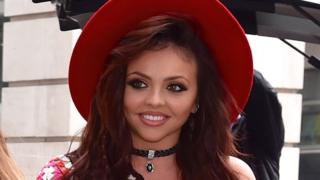 Little Mix's Jesy Nelson says she is "starting to feel much better" after the group called off two gigs in Belfast because she was unwell.
Both the matinee and evening shows were cancelled last minute on Thursday.
"Thanks so much for all your lovely messages!" Jesy tweeted on Friday afternoon. "Looking forward to seeing your gorgeous faces on tour."
The girls' next concert, at Sheffield Arena, is expected to go ahead as planned, the venue has told Newsround.
Newsround has contacted Little Mix's team for a comment.
The cancelled matinee and evening Belfast shows have been rescheduled for 2 July, with existing tickets valid for the new concerts.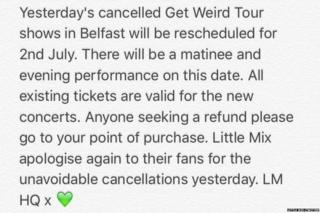 Little Mix/Twitter
Little Mix kicked off their Get Weird tour on 13 March in Cardiff - and were due to play Belfast's SSE Arena on Thursday.
But the group's Twitter posted that afternoon: "Sadly Jesy is unwell and unable to sing... Little Mix would like to apologise to their fans."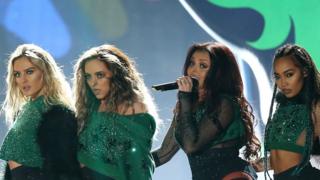 AP
The Belfast cancellation was announced just minutes after the doors opened for the afternoon performance.
Fans were later sent a text message that the show would not be going ahead as planned.
Expert view: 'No rumours of fallouts'
Radio 1 Newsbeat music reporter Sinead Garvan reckons the band were probably waiting until the last minute to see if Jesy would be OK to perform.
She doesn't think it's a sign of any problems in the group.
"There are no rumours of fallouts amongst the band and, as any fan knows, Little Mix girls are all best friends.
"So if there was any other reason it would be a huge surprise."
Sinead also thinks a tough tour schedule may have played a part.
"Little Mix have been on tour for the past two weeks, playing most evenings and afternoons," Sinead points out.
"That puts a huge strain on your voice... It's really wise for any singer to rest their voice if there's any problem no matter how small."
Adele, Sam Smith and Meghan Trainor have all cancelled tour dates before because of voice problems.

This chat page is now closed. Thanks for your comments. You can read some of them below.
My mum is taking me to Sheffield Arena tomorrow to see Little Mix. It was a gift for Christmas and I've been looking forward to it for ages. Been counting down the days and we've made a sign. Hope Jesy gets better.
Isabelle, Doncaster, England
We have tickets from Christmas 2015 to see them at Birmingham on Sunday. Praying it doesn't get cancelled as a hotel is also booked and my parents spent a lot of money on this.
Lewis, King's Lynn, England
I have been a huge fan of Little Mix since they were put together on The X Factor. I have been to both of their previous tours in Belfast and I had tickets for Thursday's matinee and evening shows. I was disappointed when we found out at 1:30 that the shows had been cancelled. However I understand that the late notice was most likely due to trying to go ahead. Cancelling was a last resort. There is no way it was due to a falling out. They're like sisters, you only need to watch the video of Jesy getting emotional at Dublin to see how much they love and support each other. I'll be sure to go to it when it's rescheduled. There's no way I'm missing out.
Megan, Armagh, Northern Ireland
Can't wait for tomorrow! Sheffield Arena here I come, was my Christmas present from Santa xx.
Olivia, Grimsby, England
I'm so so so upset, I'm still crying my eyes out, I was waiting for eight months and got really good seats. They are my idols and they just cancelled. I would love it if they reschedule.
Niamh, Belfast, Northern Ireland