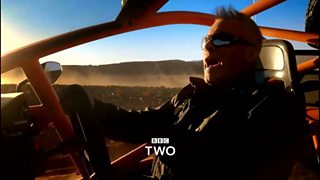 First look at new Top Gear series
Top Gear fans have been given their first look at the new BBC series.
The 60-second trailer features the team around the world in locations from Morocco to the United Arab Emirates, as well as a huge collection of cars.
There is also a glimpse of host Chris Evans feeling a bit sick trackside in California, and co-host Matt LeBlanc driving a Reliant 3-wheeler from London to Blackpool in England.
They will be joined on the show by racing driver Sabine Schmitz, YouTube star Chris Harris, Formula 1 expert Eddie Jordan, motoring journalist Rory Reid and of course, The Stig.
Top Gear will return to screens on BBC Two in May.