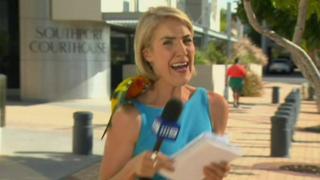 Peek-a-boo parrot's surprise TV moment
A journalist was surprised by a cheeky parrot moments before going on TV.
Brittany Kleyn was talking to camera when the colourful bird landed on her shoulder and wouldn't go away.
She was a little bit frightened and needed help from her cameraman to get the bird off.
Afterwards Brittany recovered and made friends with the parrot which is called Lola.
Lola had been lost but after she appeared on the telly her owner contacted the news company and the reporter the parrot home.