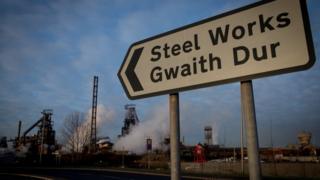 Getty Images
Thousands of British steelworkers in the UK could lose their jobs, after the Tata Steel company announced plans to sell its UK factories.
Tata Steel is based in India, but owns many of the steelworks in Britain.
It wants to sell its UK steel plants, including at Port Talbot in Wales, because they aren't making money.
Steelworker leaders travelled to meet Tata bosses in India to try to convince them to keep making steel at British plants.
The UK and Welsh governments have said they are working "tirelessly" to protect the British steel industry.
Tata's decision will also affect workers at its other UK steelworks, including Rotherham, Corby and Shotton.
Why is the UK steel industry in trouble? Read more here.
In January, Tata Steel announced more than 1,000 UK job cuts, including 750 in Port Talbot in Wales.
Last October, it said nearly 1,200 jobs would go at plants in Scunthorpe and Lanarkshire.
Tata says the factories are not making enough money, as not many people around the world are buying their steel any more.
People think this could be for a number of different reasons, including that big buyers are getting their steel from other steelworks around the world, including China who are selling it for a cheaper price.
However, the people who work at UK steelworks argue that things could improve if they got a bit of help from the government to keep things going.