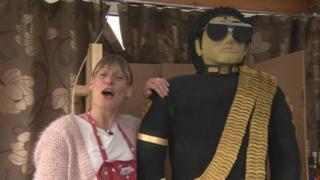 Super-fan makes singer into cereal cake
A Michael Jackson fan has made something a little bit unusual to honour him - a huge cake made almost entirely from a breakfast cereal.
Sonia Todd, from North Yorkshire, created the 7 feet (2.1 metres) tall model, made from Rice Crispies, chocolate and icing, in around five weeks.
She won a bronze medal at Cake International, the UK's biggest cake and decorating show in Birmingham, last week.
It will now be sold off for charity.