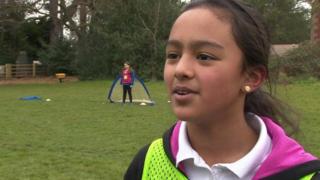 Leicester's footy success inspires girls
Leicester City's surprise Premier League success is inspiring more girls in the area to take up football.
In just 12 months, the club's gone from the bottom of the table to being potential champions.
FA skills coach Chloe Brown says it's had a "massive" impact.
"All the kids turning up to some of our sessions in Leicester City kit," she describes.
"I've been outdone by [Jamie] Vardy when asking girls 'What would be your perfect session?' and they want him to come and coach."