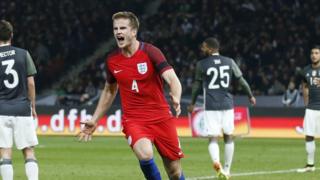 Reuters
England staged an incredible comeback to beat World Cup holders Germany 3-2.
England were 2-0 down after 60 minutes of the friendly match.
But they kicked back into gear, with Harry Kane scoring the first England goal of the night.
Jamie Vardy soon followed with his first international goal.
But it was Eric Dier's injury-time header that sealed a 3-2 win.
Manager Roy Hodgson said that the win was his "finest night as England manager".
It's good news for the England team as they prepare for Euro 2016, which kicks off in June.