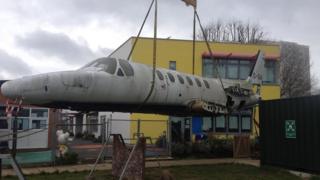 Milton Hall School
Pupils at a school in Essex in England will soon be having lessons in a disused jet plane.
The aeroplane was bought by Milton Hall School in Westcliff-on-Sea in Essex, earlier this month.
The school bought the plane because they didn't have a lot of space to build new classrooms.
It had to be carried by large crane on to the playing field, where it was gutted.
It still needs a lot of work before it can be used as a classroom, but the school hopes it will be ready by June.