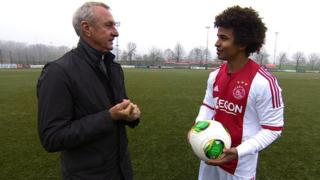 Johan Cruyff on how to do his famous turn
The football legend behind the "Cruyff turn", one of the most famous tricks in the game, has died.
Dutchman Johan Cruyff is seen as one of the greatest footballers of all time, playing for Ajax and Barcelona.
His "Cruyff turn" involves dragging the ball behind your standing leg before turning around, and he taught MOTD Kickabout's Radzi Chinyanganya how to do it back in February 2014.
"You play football with your head and you use your feet. So it's always the situation, what you see, and then react," he explained.
"It's always fooling your opponent. You want him to do what you want and then you can do what you want.
"Use your eyes and fool your opponent."