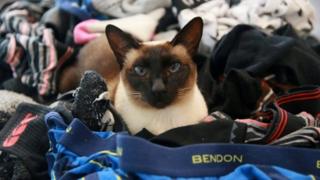 Mark Taylor
A real life "cat burglar" has been stealing socks and men's underwear in New Zealand.
In just two months, Brigit the cat brought home 11 pairs of underpants and more than 50 socks from her night-time raids.
Brigit's owner, Sarah Nathan, discovered her cat's strange obsession and posted on Facebook to try and find the victims and give them back their belongings.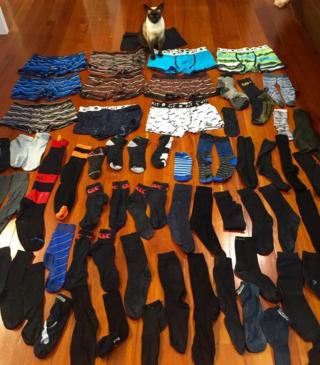 Facebook: Sarah Nathan
She told the BBC that the trouble first began when she started finding odd bits of underwear that didn't belong to anyone in the house.
Then one day she saw Brigit walk into the lounge "carrying a sock like a kitten" and realised what was going on.
"Now it's getting silly" she wrote on Facebook, "Every morning we wake up to more ... Someone must be missing this stuff."