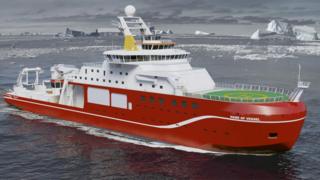 NERC
Boaty McBoatface is topping a poll to find the name of a new research boat.
The name has become the runaway favourite in an online poll to suggest names for the Royal Research ship.
The man who suggested it as a joke has now said sorry.
James Hand said that while he stands by Boaty McBoatface as a "brilliant name" for a boat, he has actually voted for RRS David Attenborough to be the new name.
Traditionally, ships are named after explorers, so Boaty McBoatface would be an unusual choice.
There's no guarantee that the ship would have the name though, as the poll is only a suggestion and a panel of experts will choose the name.
Other names in the running are RRS Pingu and RRS Usain Bolt.
The boat is currently being built and when it's completed it will study ice sheets, ocean currents and marine life in the Arctic.