The international organisation in charge of rugby have asked the Six Nations to explain their decision not to punish England player Joe Marler.
World Rugby have asked the Six Nations organisers to explain how they came to the decision not to punish England prop Joe Marler for his "Gypsy boy" comment.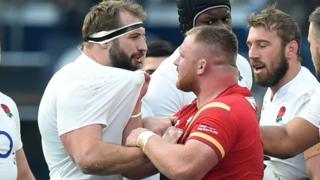 EPA
What happened?
Marler made the comment to Wales prop Samson Lee, who is from the Traveller community, during England's Six Nations win at Twickenham on Saturday. Watch Martin's report.
Marler has apologised to Lee, who said he accepted the comment as "banter."
In a statement Six Nations Rugby said it was "aware of the seriousness of Mr Marler's comment and does not in anyway condone what was said" but accepted it was said "in the heat of the moment.".
World Rugby said in a statement that "in accordance with its regulations," it has requested further information from the Six Nations, "in respect of the process that led to its decision."
What are the consequences?
World Rugby could start their own discipline process against Marler or ask the Six Nations to review how they came to their decision.
Verbal abuse of a player, based on where they come from, can carry a minimum punishment of a four-week suspension.
The Welsh Rugby Union said it was "surprised" Marler was not sanctioned.