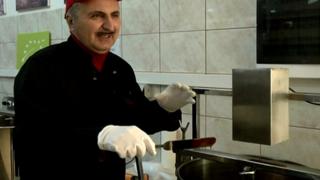 The eco-friendly chocolate
A chocolate maker from Croatia has created eco-friendly chocolate.
The chocolatier, named Marinko Briskich, uses old-fashioned techniques, eco cocoa beans and special equipment that he invented himself.
He says that his eco-treat takes 50 hours to make and that the delicate process involved can even be affected by the weather.
Marinko says: 'The cocoa is top-quality, world-class flavor. Cocoa beans arrive eco-certified, and then the sugar that we get is also eco-certified. Nothing else is added to the chocolate apart from cocoa and sugar.'
He hopes to sell the chocolate to foreign tourists visiting Croatia.