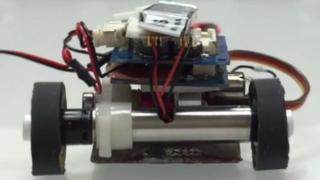 Tiny robots work together to pull a car
When you think about super-strong robots, these little guys might not come to mind - but they are the Hulks of the robot world!
The Microtugs are a group of tiny robots who are being developed by a team of researchers from Stanford University in America.
The scientists who invented them tried to mimic the way that certain animals move and work together, such as ants and geckos.
On their own the Microtugs can move objects that are up to 2,000 times heavier than themselves, however the researchers decided to see if the robots could work together to pull even bigger and heavier objects.
Six of the Microtugs were able to pull a full size car - which weighed about 1800kg - meaning that together the robots were able to move more than 3,000 times their combined body weight!