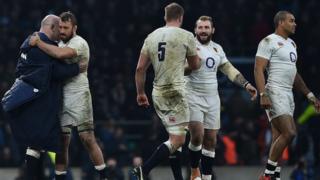 AFP
England's rugby team have won their first Six Nations Championship since 2011.
They still need to play France on Saturday, but are so far ahead of the other teams in points they've won from previous matches, they are already overall winners.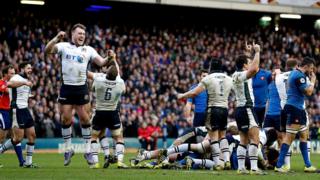 AFP
If France had beaten Scotland they would have been just two points behind England, but their loss on Sunday now means England are so far ahead in points they can't be beaten.
The England team were led to Six Nations victory by their Australian coach, Eddie Jones, who took charge in November as their first foreign coach.
Jones was delighted with his team's win, saying: "It's a fantastic achievement."
If England beat France on Saturday they will have won every game of the competition, making them Grand Slam winners.
Scotland play Ireland while Wales face Italy in next weekend's other matches.