A rocket carrying the ExoMars 2016 spacecraft has been launched as part of a mission to find out if there is life on Mars.
The craft lifted off from the Baikonur spaceport in Kazakhstan onboard the Proton rocket at 9.31am (UK time), starting a seven-month journey through space.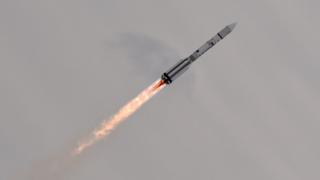 AFP
A key aim of the mission is to find out if a gas, called methane, which has been found around the planet, means that there could be life on Mars.
The ExoMars probe and orbiter are carrying lots of scientific equipment designed to test for the presence of life-forms.
The plan is to find out if the methane is produced by tiny forms of life living on the planet, or if it is just created by geological activity.
10.40am Spacecraft cruising towards Mars
All three stages of the rocket's engines having been fired and used. They have been released to land on earth at planned locations. The rocket's upper stage engine will now take over to provide additional boosts to take the ExoMars Trace Gas Orbiter (TGO) to Mars. It is expected to arrive at around 9.30pm (UK time).
09.31am Blast off
Lift off into a cloudy sky as ExoMars probe and orbiter launches on its mission to try to find out if there is life on Mars. Three engines will fire at three stages along the way to give extra power to boost and steer the TGO towards Mars.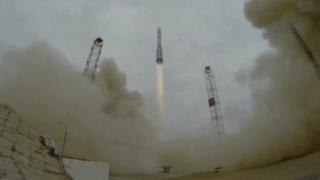 ESA
09.30am Take off minus 60 seconds
The ignition sequence begins. Engines fired.
09.29am Two minutes away from blast off
The Proton rocket's first stage will blast off powered by six huge engines. The launcher will climb the skies from Baikonur, dropping its first stage engines two minutes after liftoff, giving way to the Proton's second stage main engines for a three-and-a-half minute burn.
The Proton's third stage engine will fire for about four minutes. Separation of the rocket's nose cone will happen during the third stage burn at around five minutes after original blast off.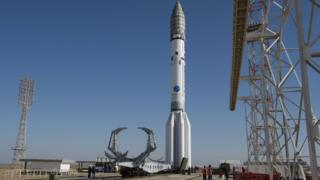 Reuters
09.25am
We are waiting to hear if everything is ready to go at Baikonur in the next few minutes...
09.15am
Latest information from Baikonur Cosmodrome states that everything remains on schedule for launch at 09.31.42am (UK time) which is 3.31.42pm Baikonur time.
It will take more than 10 hours to get the ExoMars orbiter and lander on their proper trajectory toward Mars.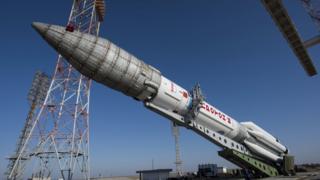 Reuters
09.07am Just under half an hour to go...
Russian ground crews at the Baikonur Cosmodrome are evacuating the launchpad in preparation for blast off to Mars.
Mars is thought to be our best chance of finding evidence of extra-terrestrial life because it once had running water and an atmosphere.
The hope of discovering life on the planet was raised in December 2014 when 'burps' of methane were recorded by Nasa's Curiosity Rover.
09.00am Prepare for blast off
The ExoMars Trace Gas Orbiter (TGO) is primed to lift off from Baikonur Cosmodrome in Kazakhstan at 15.31pm local time, 09:31am (UK time) on Monday.