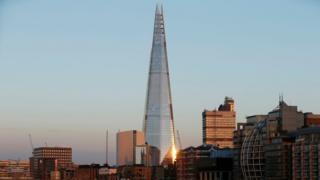 PA
A man jumped off The Shard, the tallest building in London, with a parachute on Saturday morning and landed safely on a street below.
Witness Justin Knock captured images of the base jump and said the "dangerous" move was "skilfully" done with the jumper landing on his feet.
The base jumper landed at about 10.18am, police said, adding that no-one has been arrested.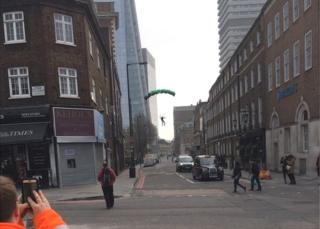 Justin Knock
The Shard stands at 310 metres and is one of the tallest buildings in Europe.
A spokesperson for The Shard said: "We are investigating an incident involving a member of the public this morning."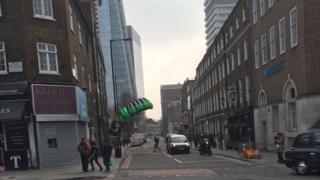 Justin Knock
Eyewitness Mr Knock, said: "I was buying some cheese from the store opposite St Thomas's Street and looked up and this guy was coming down with his parachute.
"It was obviously a dangerous thing to do but he pulled it off skilfully."
He and another man bundled up the parachute within seconds of landing and left the scene. Police and staff from the building arrived at the scene soon after, Mr Knock said.