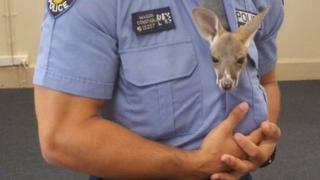 Baby kangaroo adopted by police officer
A baby kangaroo has been adopted by a police station in Western Australia.
Police officers have been looking after the four-month-old joey, who they've named Cuejo, since its mother died.
It will have to be fed every three hours until it is 18-months-old.
Watch the Cuejo follow Constable Scott Mason, who has been looking after it, around the police station.
Pictures from Western Australia Police