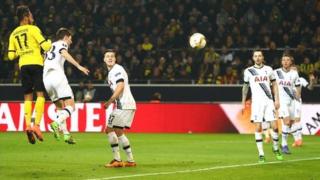 Getty Images
Tottenham were outclassed by German side Borussia Dortmund, who took a big lead into the second leg of their Europa League last-16 tie.
With seven changes to the side, Spurs struggled to contain the hosts and were lucky Pierre-Emerick Aubameyang's header was the only difference at half-time.
In the second-half, Tottenham's Son Hueng-min had a penalty appeal turned down but Marco Reus scored two goals, adding to Dortmund's total.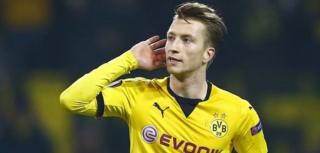 Reuters
Tottenham's heaviest defeat of the season leaves them a mountain to climb against a Dortmund team who must be considered one of the favourites to win the Europa League this season.
"It is difficult to explain but it's a bad day and I'm disappointed with our performance. We did not play well. That is why we lost the game," said Tottenham boss Mauricio Pochettino.
"This was our first time losing 3-0 this season. We need to be calm and be sure it doesn't happen again."