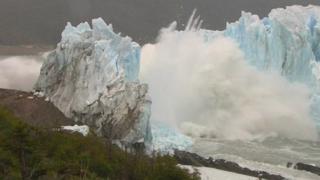 Large chunks of ice break off glacier
Part of one of Argentina's biggest attractions, the Perito Moreno Glacier known as the "White Giant", has collapsed crashing into the water.
Dramatic footage captured large pieces of ice breaking away and falling into the river below on the site in the City of El Calafate, in the Santa Cruz Province.
The glacier loses ice roughly every few years and the last time big ice chunks fell off was in 2012.