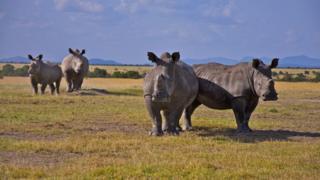 The number of southern white and black rhinos in Africa being poached has increased for the sixth year in a row.
The International Union for Conservation of Nature says just over 1300 animals were killed, bringing the total number to just under 6000 since 2008.
It is a mixed picture. South Africa which has 79% of Africa's rhinos, has seen poaching fall slightly. Their success is put down to many things including better law enforcement.
There are around 30,000 rhinos left in all of Africa.
However some other countries have seen a big increase in poaching.
Overall the white rhino population is stable whilst the black has gone up slightly.