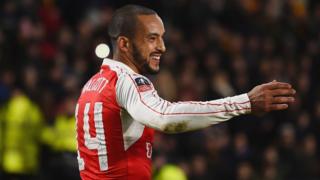 Getty Images
Arsenal have taken a step closer to Wembley, after reaching the FA Cup quarter-finals with a 4-0 win against Hull City.
Two goals apiece from Olivier Giroud and Theo Walcott helped the Gunners through the replay, and sets up a tie with Watford this weekend in the next round.
It's Arsenal's first win in six games.
It wasn't all good news for the Gunners though, with Arsene Wenger losing three key players to injury.
Per Mertesacker, Aaron Ramsey and Gabriel all suffered injuries.
"The most serious looks to be Ramsey. I think it's a thigh strain," said Wenger.
"Mertesacker is just a cut on his eye - that looks to be very short term," he added. "Gabriel is a hamstring."