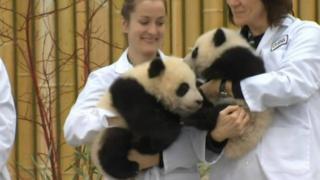 Panda cubs born in Toronto Zoo named
A pair of panda cubs born in Toronto Zoo in Canada have officially received names that pay tribute to the country of their birth.
The male cub is named Jia Panpan, meaning Canadian Hope, while the female cub is named Jia Yueyue, meaning Canadian Joy.
Canadian Prime Minister Justin Trudeau said the pandas represent the growing bond between their country and China, where they'll eventually be returned.