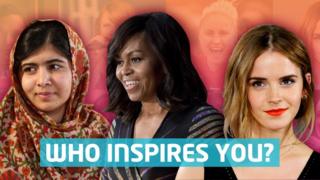 International Women's Day is a chance to celebrate the achievements of women around the world.
Amazing females from the world of sport, music, film, politics and many other jobs are recognised on this special day.
One of the main messages of the day is that everyone is equal, which means that we should all be treated the same whether we are male or female.
As inspiring women are celebrated across the globe today we wanted to know which women inspire you and why.
Your comments
The person who inspires me is Charlie Hull, a golfer who plays for England and contributed in the 2015 Solheim Cup. She inspires me because as a golfer myself I know it takes a lot of dedication to succeed and you have to have a lot of perseverance.
Paris, 10, Chesterfield
My mum inspires me to do everything you need to do in life.
Jamie, 9, West Yorkshire
Rydel Lynch inspires me because she's in a band with all her brothers and best friend called R5 - and she loves music and inspires me to play keyboard!
Gabriella, 12, England
JK Rowling inspires me because I really want to be an author like her when I am older. I love the Harry Potter books.
Luisa, 10, Bury
Mrs Clark inspires me because she is the best teacher in the world. Queen Elizabeth the Second because she helps me live my life. My teacher inspires me because she pushes me to do harder work because she wants me to be the best that I can be. Emma Watson because she inspires me to be strong and brave. My mum because she makes me laugh.
Jade Class (Year 3) Braybrook Primary, Peterborough
We are inspired by Malala Yousafzia because she helped girls get an education. She also inspired us by speaking her mind and made sure girls were allowed to go to school. We think that she is confident, resilient and extremely brave! She has inspired us to stand up for what we believe in and our rights. Emma Watson also inspired us because we watched Harry Potter and she played a smart and sassy female.
3F Class, Durand Academy, London
I am inspired by the suffragettes because they were so brave and they stuck up for what they believed in.
Eilidh, 10, Scotland
Year 2 at All Saints School said these women inspire them;
Malala Yousafzai, as she is very kind and now girls can go to school. Emma Watson, she's an amazing actress and a good role model. Adele, who sings songs that other girls can't. Taylor Swift and Katy Perry get more girls singing and encourage them to improve. Teachers, who help children to learn new things and improve at what they can do already. Mums, who are kind - some run their own businesses and help with tricky homework. And a horse riding instructor, who demonstrates riding skills and makes it look easy!
Year 2, All Saints School, London
The woman that inspires me most is Zoë Sugg (Zoella) because, even though it's only through a computer screen, she helps me with my anxiety and inspires many that watch her.
Stacie, 12, Coventry
Marilyn Monroe, because she taught people that beauty comes in all shapes and sizes.
Maisy, 15, West Midlands
Emmeline Pankhurst - she stood up for women and made sure that we had the right to vote.
Sean, 15, West Midlands
Malala Yousafzai, Aung San Suu Kyi, Sunita Williams, Marie Curie, J.K Rowling... to name a few. They're great women, and have inspired millions. Hats off for their remarkable achievements!
Shreya, 14, Bangalore, India
I think that NASA astronaut Sunita Williams is an inspiration because she holds the records for total spacewalks by a woman (seven) and most spacewalk time for a woman (50 hours, 40 minutes).
Chris, 10, Manchester
Elizabeth Banks is my inspiration, because she has a brilliant singing voice, is a director and an actress all at once. They are all things I'd like to do, and things that only boys were allowed to do in the past.
Kate, 11, Brighton
The woman who inspires me most is footballer Fara Williams.
Joy, 9, Northern Ireland
Emma Watson - because she stands up for women and she's a great actress.
Sarah, 12, Stockport
Emma Watson inspires me because I love Harry Potter and she is a lot like me. Malala also inspires me because it proves that no matter who you are, you should stick up for yourself. Finally, Taylor Swift inspires me as she is amazing at singing and I love her so much!
Eden, 9, Cambridgeshire
Malala Yousafzai inspires me, because she kept on going. She is amazing for standing up for girls.
Laura, 9, Inverness
The children's writer Jacqueline Wilson has inspired me to write more because I love her books. Also, my mum has inspired me because she has worked really hard.
Rosie, 13, Lincoln
Emma Watson inspires me because I am a HUGE Harry Potter fan and she is my favourite character. She speaks out for our rights and she is an amazing actress.
Kara, 13
Violet Palmer inspires me. She was the first woman to be a NBA referee and, although sometimes it was hard, ignored all the comments that were made to push her down. She inspires me when I play basketball to keep going and prove that I am just as good as the boys.
Silvia, 12, Oxford