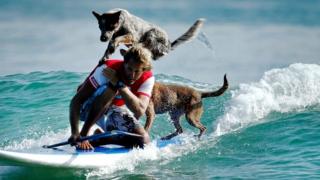 Surf's up for pups at big competition
Surfing's not just for humans it seems, at the Noosa Festival of Surfing in Queensland, Australia.
Thrill-seeking dogs and their owners opened the global surfing event at the weekend.
The festival also has competitions for children, people aged 70 years and above, and lots of different styles of surfing including, longboard, shortboard, finless, stand-up paddle boards and body surfing.
Organisers say dog-boarding helps strengthen the bond between humans and their pets.
Let's hope the waves weren't too 'woof'!